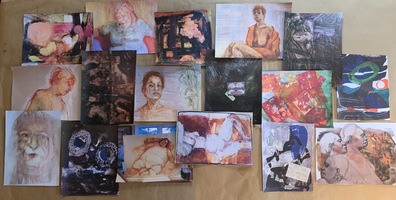 Barbara Shapiro
Artist Statement

For me there is a harmony between abstraction and figuration. They both allow for a delicacy and boldness and they come from the same place of line and color and balance. It's about whether you see the work as obvious or speculative.

I appreciate and exploit the sensitivity of working from life by creating both delicate drawings and bold paintings. I do them on both paper and polyester film utilizing acrylic paint, charcoal pencils, soft pastels and oil pastels, watercolor and pastel pencils.

In contrast my abstract work is often more dramatic and experimental in both my paintings and printmaking. I am a nontoxic printmaker who travels between monotypes, pronto plate lithographs, dry points and carborundum prints that are also done on either paper or film. These are usually created with India ink and acrylic paint but I'll reach out for whatever I think the work needs. I am not shy.